Rubber conveyor belts, also known as rubber conveyor belts, are specialized equipment for transporting materials and products from one place to another at a certain distance. Conveyor belts are of great importance in industries and are widely used by their superior features such as:
– High transport capacity
– Cost savings
– Safe
– Environmental-friendly
– Simple operation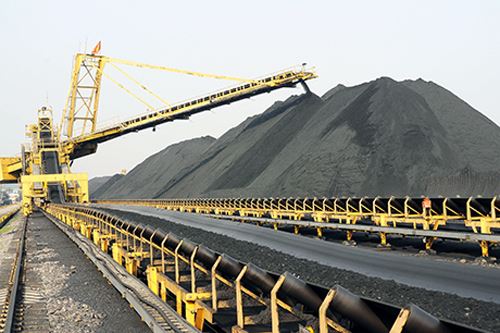 Photo: Internet
When installing a rubber conveyor belt, businesses also need to choose a rubber conveyor structure to match the frame system, rack and production conditions. There are many different types of conveyors used according to different purposes and functions, the most commonly used types of conveyors are: wear-resistant conveyor belt, oil-resistant conveyor belt, heat-resistant conveyor belt and fireproof conveyor belt. To be able to design and choose a suitable conveyor belt requires high visibility, a few other related issues of reputable and experienced manufacturers in the industry.
In order to choose the right conveyor structure, some points should be noted as follows:
– Characteristic of the conveying material: is one of the decisive factors in choosing a conveyor belt that is suitable for materials such as: granular materials; Coal and other rapidly corrosive materials; articles of hard ore, rock, and materials with sharp edges; or with materials under extreme heat conditions in the pit, conveyor belt can withstand temperatures up to 180oC,…
– Width of conveyor belt: depended on the amount of traffic to be transported and the size of the item (or the size of the "particles" of material) to be transported on the conveyor belt. If the size of the material is larger, the width of the conveyor belt should be wider.
– Running speed: should be limited depending on the capacity of the conveyor belt, the width of the conveyor belt and characteristics of the material to be transported. Using narrow conveyor belts moving at high velocities is the most economical, but operating large conveyor belts is easier than narrow ones.
– Transport capacity, length and slope: is the criterion to evaluate and calculate the tension structure, tensile strength of the conveyor belt must be suitable to ensure that the conveyor belt is operated safely and continuously.
– Specific production lines and conditions: with the needs of each customer about the conveyor belt system, suitable for active and passive rollers, motor capacity of each area using the conveyor belt.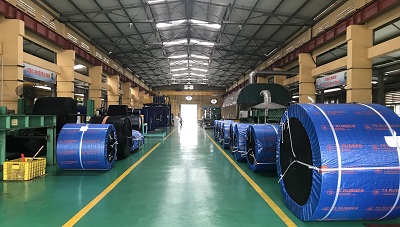 (The production line of rubber conveyor belts at 75 Rubber Company Limited)
For a technical team with high expertise in the field of rubber conveyor belt production, 75 Rubber Company Limited will directly conduct field surveys at each factory, industrial park, production zone, … to consult and support customers on the types and textures of conveyor belt to best suit each region with the lowest cost, achieve high productivity and safety at each line, combine conveyor belt systems in production rationally and scientifically, manufacture productivity will be improved and increased significantly, meeting production output and costs.
Our company always puts the trust and quality on top, all of our conveyor belts are covered by a 12-month warranty on all types, including those used in extreme conditions. We constantly invest and develop technology and materials of conveyor belts to better meet the needs of customers, accompanying customers throughout the operation and production process.