Conveyor gluing at the construction site currently has many units engaged in implementation with three main technologies: Gluing by pins and hinges, Gluing by cold glue, Gluing by saving method. heating. Each method has its advantages, disadvantages and applicability to each type of Conveyor. However, for conveyor routes with high transport capacity and high traction force (rebar conveyor belt, slope conveyor, etc.), the hot vulcanization method will be selected with outstanding advantages. turned on is a long life, no unexpected problems during use.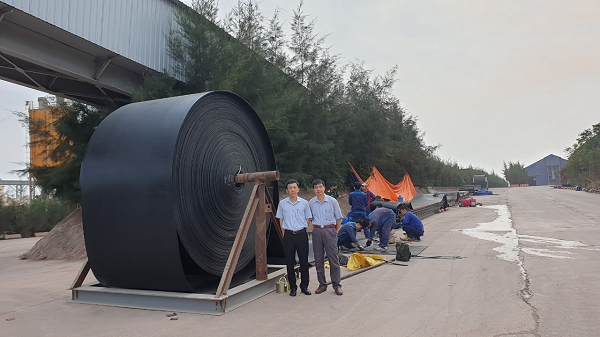 Rubber Company 75 constructs joints at Nghi Thiet port – Vissai Cement Company
A qualified Conveyor joint is when the joint is not swollen, porous, and not skewed, the joint life must be at least 6-12 months of continuous use. The quality of the joint will depend on the following factors:
+ Structure (size, design…) joints.
+ Machines and technological equipment to perform the gluing process.
+ Materials (rubber and glue).
+ Humans perform the gluing process.
+ Environment (conditions of humidity, dust, etc. in the gluing area).
Bonding materials used by Contractors in Hot Vulcanization Technology can be imported from brands such as NILOS, REMA TIPTOP or supplied from domestic brands such as DGR, BRC… The above bonding materials are compatible with most common wear-resistant conveyor belts manufactured from natural rubber (NR) or synthetic rubber IR, SBR, but are not compatible with heat-resistant conveyor belts. manufactured from EPDM, IIR rubber; or group of fireproof conveyor belts manufactured from CR rubber.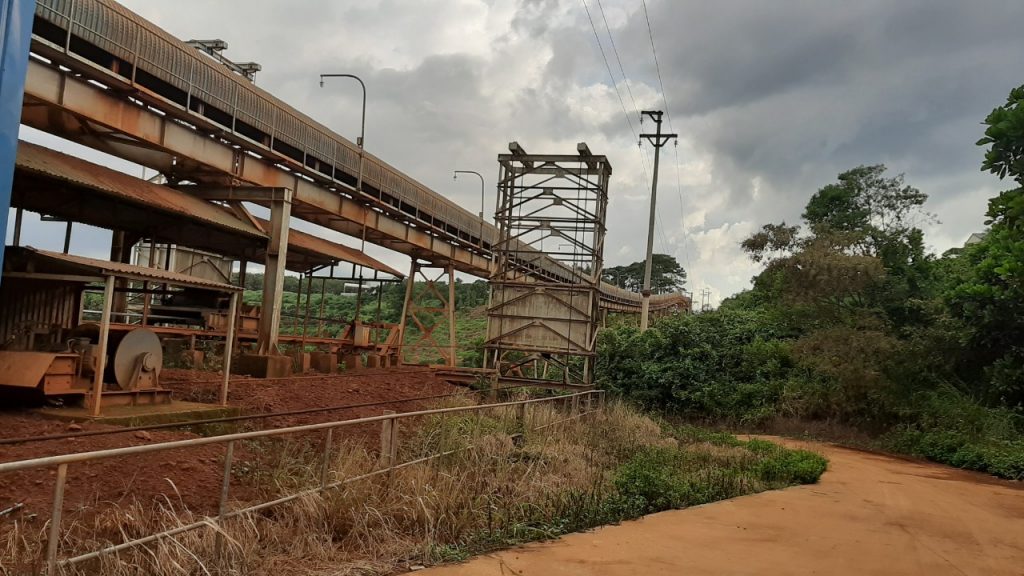 75 Rubber Company surveys to manufacture and construct conveyor belts for DNA
Since then, 75 Rubber One Member Limited Liability Company realized that the gluing material is the decisive factor affecting the quality of the joint, especially in the context of our country when companies and factories use Conveyors with Diversity of sources of supply, variety of quality products. We use bonding materials researched and developed by the Company itself. For customers who have demand for conveyor belt gluing, we will perform sample analysis to determine the type of rubber used to manufacture conveyor belts, sample analysis is performed by qualified technicians. experience on advanced equipment of the Company's laboratory (the laboratory meets ISO/IEC 17025: 2017 standards) from which the appropriate bonding material will be selected.
Rubber 75 One Member Company Limited under the General Department of Defense/Ministry of Defense has a team of trained technicians specializing in gluing Conveyor belts, not only good in expertise but also experienced in consulting for customers; Realistic on all terrains, connected environments such as underground mines, elevated terrain…
Advantages in speed of implementation: 75 Rubber One Member Limited Liability Company is always highly appreciated in implementing work. Understand the difficulties of our customers when encountering problems such as broken or torn tape; When there is a need, we are always ready to be present in the shortest time to fix for a specific customer (depending on the area and moving terrain).
+ For the North and Central regions: the time to be present ≤ 24h.
+ For the southern region: arrival time ≤ 48h.
By doing their own science, the joints constructed by 75 Rubber One Member LLC are all on schedule, with superior quality compared to other contractors. We also identify this as the strength of the Company and will continue to promote in the coming time with the desire to bring customers the best products and services.