Currently, the demand for the application of rubber conveyor belts to transport materials in the mining industry, cement industry, power industry … is increasing, the capacity of those transport routes also increases much higher than before and this is also the reason to synchronize the ice frame structures, the accompanying components must be strong enough, ensuring the anti-slip coefficient of friction so that the belt and the transmission system are linked. stable operation. A very important factor affecting the conveying efficiency of the conveyor system is the active and passive rollers (drums) in the conveyor drive system; The rollers are usually covered with a rubber layer to increase the friction of the belt when operating, but with a large capacity transport routes, the roller surface must be roughened to increase friction. adhesive tape, heavy load… Therefore, ceramic roller surface coating technology was born to solve all those problems.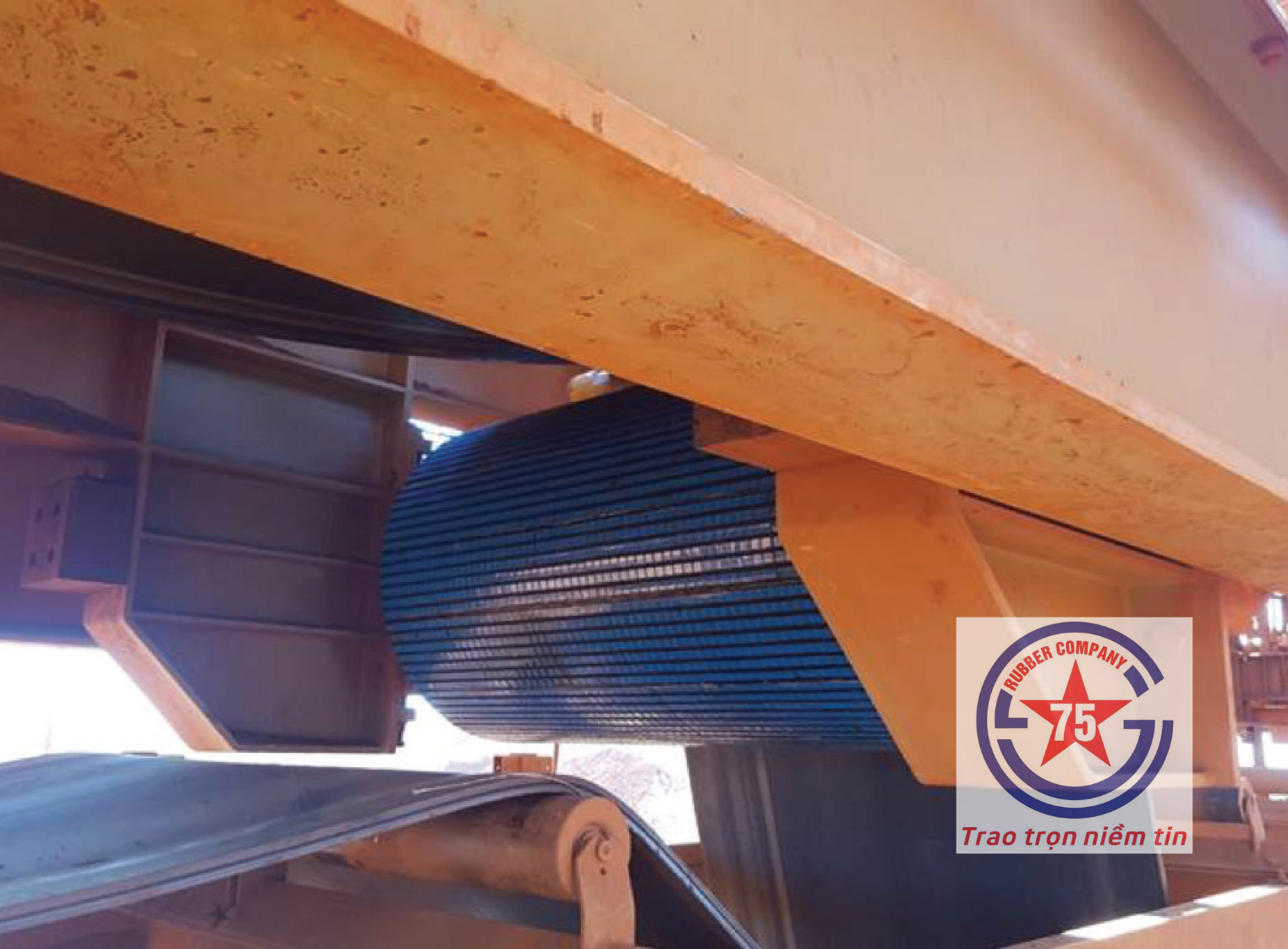 Ceramic coated roller on the conveyor system
A ceramic coated roller is made by using the method of gluing ceramic rubber sheets to the surface of the roller. Ceramic coated rubber sheet (porcelain) is a combination of ceramic plates on the surface of a special rubber sheet, according to a certain layout (in squares, fillings, circles…) by advanced hot vulcanization technology.
The biggest difference in ceramic coated rollers of 75 Rubber Co., Ltd is the hot vulcanization method, which molds the rubber sheet to attach ceramic to the roller surface instead of using cold glue technology. Therefore, the bond between the ceramic rubber layer and the roller reinforcement ensures high homogeneity, withstands great tension on the surface, and greatly increases the life of the roller.
Ceramic rubber sheet
Ceramic coated conveyor roller at Rubber 75 Company
Ceramic coated rollers have outstanding advantages, including:
Specially structured and arranged ceramic plates are incorporated on a characteristic rubber base that increases the coefficient of friction between them and the conveyor. Minimize sliding friction between roller and conveyor, minimize conveyor slip during operation.
High wear resistance of the ceramic surface is applied to the driving roller of the conveyor system, making the life of the drive roller much longer than that of the traditional rubber-coated roller.
Especially in conveyor lines with high running speed and long belt length, under the same load, ceramic coated rollers will reduce conveyor tension and prolong conveyor life compared to rollers rubber wrap.
Reduce the deviation and wear of the conveyor belt during operation.
Each ceramic rubber sheet has grooves at a certain distance, which can cause foreign substances (dust, soil, materials…) to stick on the roller along the groove, so the roller has a unique self-cleaning function. unique, especially suitable for wet working environments.
Improve operational efficiency, make the roller and conveyor run synchronously to ensure the conveyor belt works efficiently and withstands large loads.
Basic technical parameter:
Product name
Ceramic coated roller
application
Installation of conveyor systems in industries such as mining, cement production, steel production, thermal power, quarrying…

Steel material

Material
Steel
Surface
Surface Ceramic rubber sheet
Standards
ISO, DIN, JIS…
Diameter
From 200mm to 1800mm
Length
From 350mm to 3000mm
Hardness
60±5 ShoreA
Tensile Strength
16 ÷18 MPa
Working temperature
From – 4oC to 70oC
Fire resistance
According to ISO 340
Abrasion
90mm3
Minimum elongation ISO37
550%
Lifespan
5 years to 10 years