Currently, conveyor driving systems are being used quite widely in factories, enterprises and construction sites. In the areas of material production and food processing…
A rubber conveyor belt driving station is usually structured and driven as follows: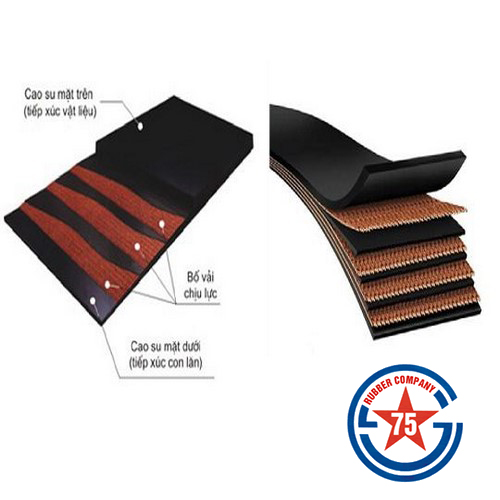 The rubber conveyor belt is driven by a motor, through an external transmission set
Belt transmission set: The belt is connected through the small pulley to the large pulley, through the reducer.
The reducer and coupling connect to the drum.
Here, the rubber conveyor belt is connected to two guide drums:
Active and Passive drum.
Because the distance between the two drums is quite far, the belt is put on the supporting roller on the machine stand. The belt tensioner (screw 1) must ensure enough friction between the belt and the drum to prevent the belt from overlapping when loading the material.
CONVEYOR BELTS DRIVING SYSTEM'S CHARACTERISTICS:
high transport capacity,
continuous transport,
a large distance and wide range of transport.
Can transport bulk materials or articles into bales applications such as:
coal conveyor belts,
cement conveyor belts,
soil and rock conveyor belts,
Rubber conveyor belts in beverage, tea, coffee, chemical, food industries….,
and single items such as bags, boxes, boxes, parcels … to meet each production line requirement.
Depending on the production conditions to decide whether to use a conveyor or a combination of multiple conveyors together with other conveyor equipment and automation equipment in production to improve productivity and reduce labor intensity.
On the other hand, the investment cost of manufacturing equipment and conveyors is not very large, on the basis of simple structure and not too much use of specialized and expensive special materials.
ADVANTAGES OF CONVEYOR BELT DRIVING SYSTEM:
Simple structure, durable,
Capable of transporting materials in horizontal, inclined (or a combination of both) over great distances,
Quiet, low productivity.
DISADVANTAGES OF CONVEYOR BELT DRIVING SYSTEM:
recommended to run at medium speed – not high,
Small inclination ( < 240 )
Cannot be transported in the direction of the curve (need extra motor and frame to change direction)
WORKING CHARACTERISTICS OF CONVEYOR BELTS:
The device continuously rests on the roller, so it must regularly check and maintain the roller.
working thanks to the friction force between the belt surface and the guide drum-roller
Can transport bulk goods such as sand, crushed stone, coal from the wharf to the ship, barge
[:en]Currently, the conveyor belt drive system is being widely used in factories, workshops and construction sites. In the areas of material production and food processing … in addition, we can …