The global climate change has been more and more extreme, it challenges the changing diversity of people to coexist with the weather. In the world, there have been many researches on new products to cope with climate change, UV protection, intense heat protection, low temperature resistance – along with the birth of foam corrugated iron. Currently, in some Southeast Asian countries, foam corrugated iron has been widely developed and applied in construction such as factories, warehouses, civil works, etc., realizing the very good effect, the demand for corrugated iron sheet is increasing day by day and the production line of foam corrugated iron is also very large.
      The technology of manufacturing foam corrugated iron requires high precision and aesthetics, the indispensable technological equipment in the production line is corrugated iron conveyor belt – which is responsible for conveying corrugated iron through the PU foam injection system.
      Vietnam is one of the countries producing foam corrugated iron production lines and exporting to Thailand, Laos, Myanmar… with large quantities. However, there is no partner in the country to produce corrugated iron conveyor belts, the businesses have to import them from abroad for production and replacement. The importation has faced many difficulties due to the Covid-19 epidemic, slow progress and high cost, which greatly affecting to the production of enterprises.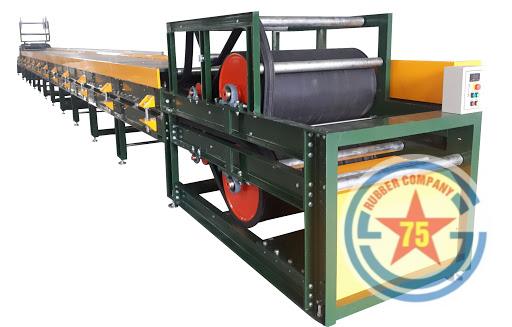 Foam corrugated iron roller – Figure: Internet
Before that situation; 75 Rubber Company Limited (75 Rubber) has focused on successfully researching and developing corrugated iron conveyor belts of foam corrugated iron roller, replacing imported goods, actively meeting domestic and export demands.
       Producing foam corrugated iron roller conveyor belts at 75 Rubber
 After successfully manufacturing the rubber conveyor belt of the foam corrugated iron roller, the product is tested on the customer's line. Highly appreciated by customers for the quality and design of products, it will be installed on the foam corrugated iron roller system to export to Thailand market. For that achievement, it is necessary to mention the determination of the company's leaders, enthusiastic technical teams, skillful hands of the workers who have set a pioneering step in the country for foam corrugated iron roller rubber conveyor belt manufactured by 75 Rubber. It promises to continuously develop to make the product more and more perfect.
Technical employees of 75 Rubber Company inspected installation on customer's line
      Products manufactured according to standards ISO 9001: 2015
      In the future, 75 Rubber will continue to develop many new types according to the requirements of domestic and export customers.
Some figures of rubber conveyor belts of foam corrugated iron roller manufactured by 75 Rubber