PRODUCT DETAILS
The popular types of technical rubber spare parts are washers, seals, fenders, PT. Rubber spare parts are inserted between openings, increasing the air tightness of the product. This is particularly concerned with the door system at construction works because the current demand for sound proof and heat insulation materials is increasing.
75 Rubber One member Company Limited specializes in manufacturing and supplying genuine rubber parts such as washer, seals, fender, PT with good price, high quality, durable life cycle.
1. Washers
Rubber washers have wire, ring or pad forms used to bond, keep the equipment and machinery parts tightly linked. Washers are mainly made of rubber, mixed with some additives to increase the utility of the product.
Materials: Natural rubber, synthetic rubber: EDPM, Neoprene, silicone, NBR,…
Popular colors of rubber washers used in industry: black (or white)
Odor: Washers made of real rubber has strong smell
Thickness: 75 Rubber One member Company Limited will produce washers under the ordered batch's specifications.
Usage: Sealing, waterproof, spillage proof, oil leakage proof, sound proof, etc.
Classification of rubber washers
By function:
Washers for expansion joints
Hydroelectric washers of all kinds
Concrete washers
Bridge bearing washers
Glass washers
Oil resistant rubber washers
By outstanding features: Anti-acid, oil-resistant, heat-resistant washer (up to 150℃), damping washers, etc.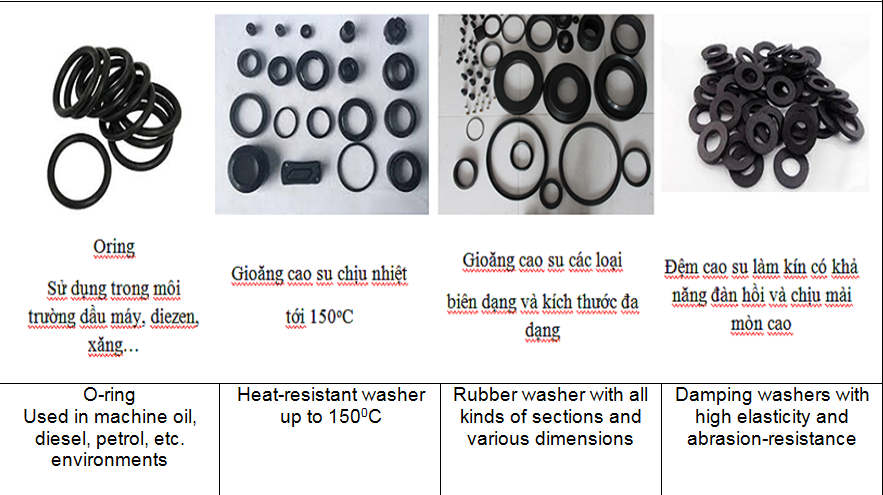 2. Seals
Seals are the common spare part for industrial machines to cover and protect from spills. The standard seals must withstand the high rotational speed, high pressure, anti-leakage.
75 Rubber One member Company Limited supplies all kinds of seals:
By outstanding features: Oil seals, hydraulic seals, dust seals, pneumatic seals, etc.
By features: Bearing seals, jaw seals, axle seals
Materials: NBR, Silicone, FKM
Standard: DIN 3760 -1996, UNI ISO 6194/1 – 1990
Dimensions: Any dimensions
Color, thickness produced by order.
In addition, 75 Rubber One member Company Limited also provides various types of rubber washers, PT, with bearing capacity, abrasion resistance and anti-leakage.
3. Customers' benefits when buying technical rubber parts of 75 Rubber
Use quality products, strictly inspected under the supervision of the General Department of Defense Industry: High durability, maximum features when used.
Buy products at competitive prices, discount prices for orders in large quantities.
Enjoy payment discount before maturity.
Receive shipping support when reaching an agreement
Products are warranted for a long time (depending on the order). The customer is entitled to change or return the goods in case of defects and 75 Rubber One member Company Limited fault of the manufacturer.
All queries regarding products consultancy, please contact:
Phone number: 02433.261.315 Mr. Tuyen – 0969.822.822.
Email: 75rubber@gmail.com
Please directly contact to buy authentic products.